---
Local Bus Tours
Travel tips
There are direct flights from Haneda and Narita airports to Kumamoto airport (about 2 hours).
There are also direct flights from Kansai airport too (1 hour 15 minutes).
There are bullet train (30 minutes) and highway bus (2 hours) from Fukuoka.

Kumamoto tonkotsu ramen, grilled and raw horse meat, local Japanese dessert, sake and shochu which made out of famous fresh and clean local water.
Visit and experience the good old Japan, osen towns such as Kurokawa and Tamana onsen.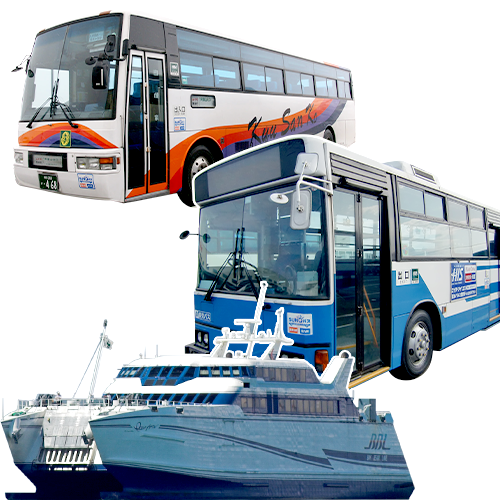 Travel with local buses such as Amakusa-go and Yamabiko-go, and the Kumamoto Ferry 'Ocean Arrow', and more transportation options are available for you to see around the region.
※Tour guide and tour manager are not included
Look at more courses
Reservation method
Procedure from online reservation to departure is as following: send your reservation request, process payment, and then download the final itinerary with ticket(s) from 'My page'.
1. Apply for a tour
Complete your reservation request online and then send.
※Online reservation can be accepted until 2 days before the departure date excluding the end and the beginning of year. Please E-mail us if you wish to make a reservation the day before the departure. web-ryoko@kyusanko.co.jp

2. Payment
We accept only credit card payment for the tour fees. Please process your payment on 'My page'.
※Please process your payment within 3 days after receiving the confirmation email with receipt number. However, payment has to be made on the day you received this email if the date of departure is less than 7 days. Your reservation may be cancelled if we could not recognize your payment within the given period.

3. Download itinerary with ticket(s)
Your final itinerary with ticket(s) will be ready to download after the completion of your payment. Please log into your 'My page' to download them.
※It will be safer if you make hard copies in case of when your digital devices runs out of buttery or suddenly cannot be used.
4. What to do on the departure day
Please present your itinerary with ticket(s) to staffs at places you visit. The itinerary can be presented in both softcopy on your digital devices and/or hardcopy.
※Please make sure to bring the itinerary with ticket(s), you cannot join the tour without them.
About cancellation
The cancellation fee will be applied from 20 days (for longer trip and 10 days for day trip) prior to 1day before the departure day.
◆The following cancellation charges, which decided in accordance with specific number of days counted from the day before the departure date, will be applied to the tour fees:

| | |
| --- | --- |
| 20 to 8 days (for longer tours and 10 to 8 days for day trips) prior to 1day before the departure date | 20% of the tour fee |
| 7 to 2 days prior to 1 day before the departure date | 30% of the tour fee |
| 1 day before the departure date | 40% of the tour fee |
| On the tour day, before departure | 50% of the tour fee |
| On the tour day, after departure (with and without notice from customers) | 100% of the tour fee |
■About the cancellation process■
Canceling your reservation can be done online if the customer has not paid their tour fee and when it is before the period that cancellation charge applied.
Please make a cancellation on My page if you are applicable.
In other words, customer who have paid their tour fee and/or if their departure date is in less than 10days (for day trip and 20 days for longer trip) prior to 1day before the departure cannot cancel their reservation online.
In that case, please call us directly during our business hours to make a cancellation.
Please note that cancellation made outside of our business hours will be processed on the following business day and cancellation fee will be charged in accordance of the date it is processed.
Notice
Tour manager and tour guide are not included in tour plans. All travels and travel procedures will be done by customers.
Please understand that times, such as departure and arrival times, listed on the itinerary could be changed due to the condition of roads and traffics.
We cannot guarantee to provide any replacement of tickets nor rearrangement of transportations when you missed your transports or made mistakes such as took a wrong bus or get off at wrong bus stop.
There are days that tours a not initially planned for each tour plan. There is a possibility of removing some tour days from our calendar on our website when some facilities cancelled our visit due to unavoidable reasons such as bad weather or renovation of their building.
There are courses that limit its departure dates due to the set timetable of buses.
Please note that we will not run some courses during the periods listed below due to the severe traffic jam for events:
◆ Golden Week ◆ Obon holiday ◆ End and beginning of year ◆ Events that use roads such as marathon
Please check the 'Calendar with departure dates' on our website to find out about the specific dates of aforementioned holidays and tour days.